I am putting this in build logs as this will have parts added and changed over time. It may eventually get to be a xeon meme machine, but for now its going to be a Pentium 4. The box will be something... WHAT it is going to end up as, I have no fucking clue.
This poll was used to determine exactly what will be in the box.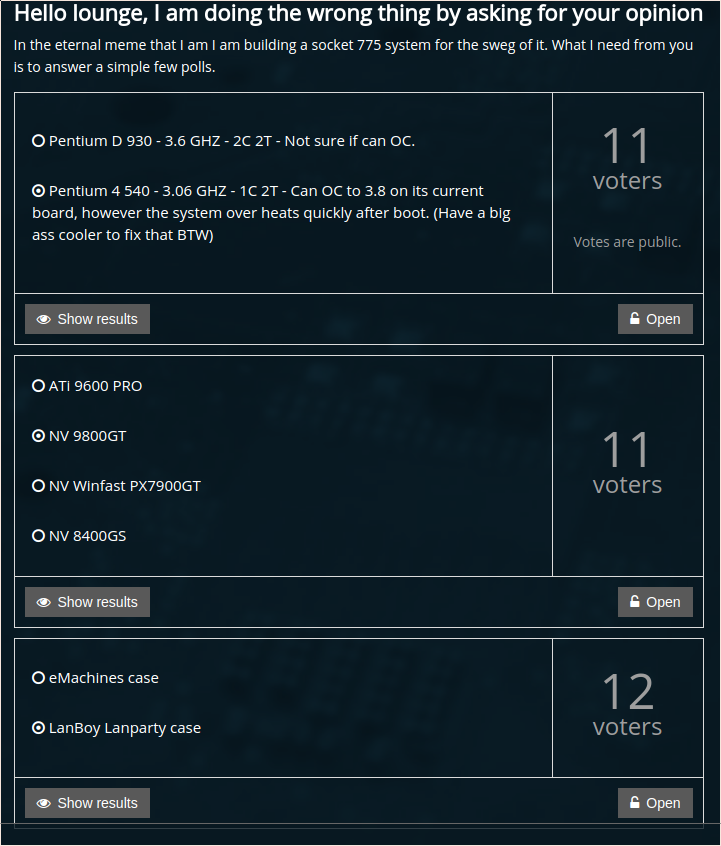 This is my pile of parts.
(some not in frame, currently in other machines)
And this is my Spec List:
Pentium 4 540 @ 3.06 (will OC as high as possible)
Nvidia 9800GT (My 9600 PRO actually won, however I tested it and it smoked so uhh, 9800 sry lel)
4 GB DDR2
Cooler Master 400W (before 80+ but was a main supply for a while)
1 X 40 GB Seagate U-ATA Barracuda
1 X 80 GB WD Black ATA
2 X Some Dell / HGST HDD's (500 GB each) Sata 2 (courtesy of @pacman)
And a Rosewill Z3 cooler with the plastic shroud and in a push pull config (also going to use the wierd thermal paste my dad gave me because it works stupid well)
Edit:
Turns out I have a pentium 4 640 so I'm going to use that instead. 540 was 3.06, 640 is 3.2. If the 640 is shit it will be the 540 that goes in and I have 2 of them out of completely different manufacture frames. I also have a P4 526 and another pentium D. Somewhere there is also an insanely clocked Celeron D I might fiddle with if there is a point to it.
Also Lanboy LanParty case is sweg.
This will start after I do chores and cook dinner for the fam.