What driver is that? SEAS?
For my PC I have a 2.1 I got at staples its cyber acoustics! and the volume control sounds like funk master flex. I want to turn it into a bolo. Headphones HD595s but my onboard doesnt drive them to my likings. Home theater/2 channel I have a Panasonic Plasma w/ full art bracket, Adcom GFA5500, Thorens Turntable, 1985 no upsampling ADC CD Player (kenwood clone),Yamaha  RXV-1000 use as SS pre and center/rear power, HTS2600, Sony Google tv bluray unit, 5.1 KEF (Q Towers) and a pair of ESS AMT 1C's I am currently rebuilding. I dont use a dedicated DAC I just use a win share with the android then go digital out to the pre.
Tweeter is ScanSpeak D2608 - One of the best tweeter I have measured regardless of price.
Mid-bass is Peerless HDS 830882 - Decent enough.
I just have Corsair sp2500 , which is good but I have regrets
You ever play around with or demo Air Motion? Thats my thing.
I used to have a Pioneer VSX-823k with a Pioneer Elite DV-45A DVD/SACD Player (great DAC using optical out from PC) and Wharfdale Diamond 10.4 speakers (look and sound great) with no center channel, just two front, two rear and a sub from my Logitech Z623. The Pioneer phone/tablet control app is wonderful to the point where I never used the remote. They also have a USB input on the front which allows for all kinds of random inputs from visitors.
Then I sold it all and now just use my Logitech Z623 2.1 system. It is actually pretty amazing for a $100-$150 computer audio solution. I have an HT Omega Claro sound card, but I guess that does not really matter (according to this site). The sub with this system can be used with a regular stereo system, which is nice.
I also have a Corsair Vengeance 1500 headset, which is great for the money. I like it for Crysis 3, or for gaming if someone is spending the night and does not like hearing Starcraft or Dishonored at 2am.
I can recommend the Wharfdale speakers, the Pioneer Elite DV-45A (cheap on ebay) is the best DAC you can buy for the money right now, and the Logitech Z623 is a great little system for gaming audio on a budget. 
Well being as cheap as I am my system was put together for only $50 with the help of ebay and craigslist... I have a pair of Technics SB-L50's powered by a Sansui R-5 running off a Fiio Olympus E10 which also drives my Sennheiser 558's... nothing fancy but I love it!
Does your Sansui R-5 have the original caps or did you replace them? A lot of people love that receiver. I have re-capped Marantz receivers of that period for people and the sound is really fantastic. I am not talking wacked-out capacitors, just quality Panasonic or Elna audio caps. 
Once I find work  I will likely buy something like this (or a Marantz), but I I would love to hear your experience. Also, how are you feeling about the Technics? I suspect your system sounds better than what BestBuy could outfit you with for ten times the price.
Where do you put your legs?
I had to recap the Sansui because I was getting some very odd distortion and buzz in the high-frequency range. Overall it has been a great receiver since I first picked it up. Crisp, nice audio separation, some of the warmth of tubes without the hassle, really a nice peice of kit. There has been a great deal of argument as to its actual value but I seem to hear somewhere in the sub $80 range even from its biggest fans. If you're into radio the FM reception out of the box is also phenomenal and its "FM Muting Mode" gets rid of the majority of interference. Its something of a "diamond in the rough" if you will and really shines through in everything I have put through it thus far.
The Technics on the other hand are nothing special, and I would argue the majority of the quilty in my setup comes from the Sansui. The Technics are 75W of decent sound that will run off of just about anything you can strap them too and in reality they are probably bringing down the system as a whole. They aren't something that I would actively seek out but if you happen to come across them at a goodwill for a reasonable price I would definitely pick them up as they are better than most of the 90's home theatre junk you'll find floating around and for the price I paid ($15 for the pair) they are a steal.
Denon 3312ci AVR, Klipch Reference RF 62 ii speaker system, RC 52 ii, RB 51 ii. Definite Tech super cube 3000. Asus Essence STX.  
Well, I am glad I am not the only one who has their PC hooked up to a TV with floor standing speakers.
My hardware is pretty cheap and it doesn't come close to an audiophiles' standard, but it does the job for me.
1st on the list is my soundcard: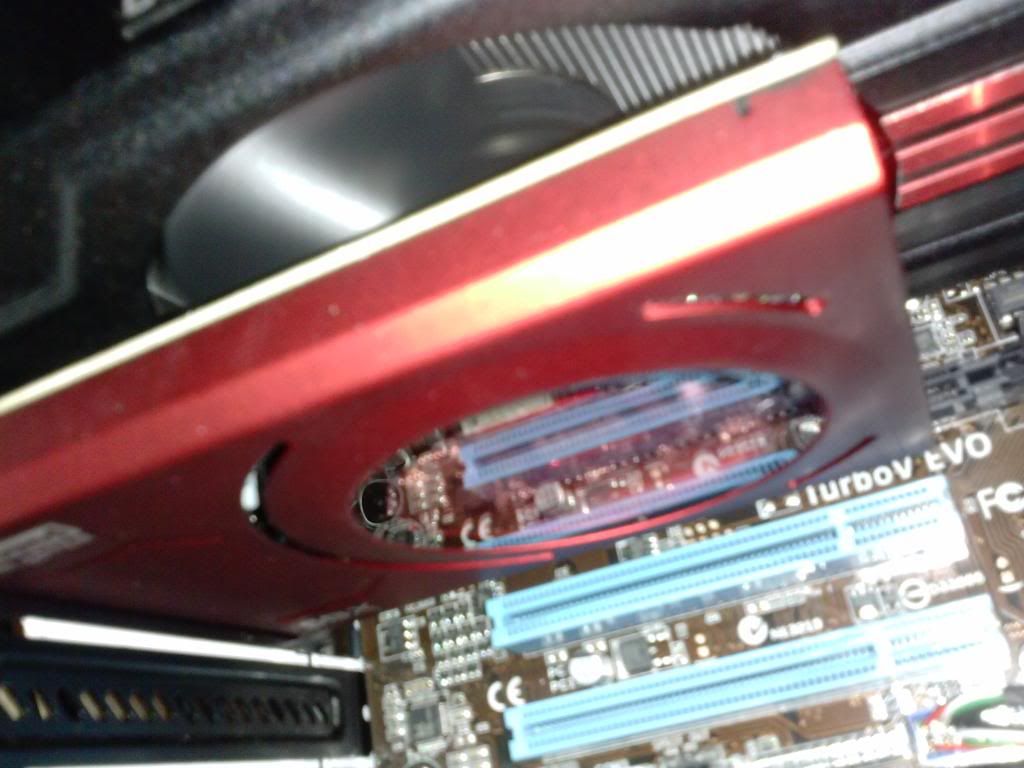 It's Creative Labs' Sound Blaster Z. It's actually powered on but I snipped off the two ridiculously bright red LEDs. :P
Here's what it connects out to:
Sound is coming out of a optical cable (right), the other is a 3.5 mic jack (left).
Here's the other end of that optical cable:
My surround sound receiver by Turtle beach. It's powering my Sony MDR-XD 200 stereo headphones and a run-of-the-mill 2.1 speakers by Creative.
Here are those two:
I've got a pair of M-Audio BX5a's hooked up, nothing exceptional but they're nice little kevlar workhorses...The sounds nice, but leaves room for improvement. 
Additional, I route all my audio through a Behringer Xenyx 1622 and a Xenyx 802 mixers and get my talky talk on with a Sterling audio ST-51(I think that's the mic)
It's an analog stereo graphic eq. So each channel is altered as it passes through but I can't have different settings for each channel if that's what you are asking.
The next model up (SH-GE90) is a nice digital parametric eq. They alter the sound amazingly for metal/techno/classical. I have never heard a better amp combo, more expensive amps yes but as far as preference goes this is my favorite and it was just a hand me down from my old man.   
Okay then... this setup I use in my room. (Note: These are old, I've moved things around since then...)
My setup isn't much. I got a JVC RX-7010V A/V Reciever, and I got a set of JBL satellites (part of the SCS145.5 package I got for christmas back in '08). Came with a subwoofer but it SUCKED. Replaced with a Sony SA-W2500
this photo you can just see the front speakers on my wall
How loud does it get without distortion? Let's say that my dad starts b***hing, telling me to turn it down. I plan on getting a Yamaha RX-V375 or V475 in the future to replace the JVC, because of Dolby TrueHD and DTS-HD. Also gonna try using this when I have a PC setup going.