Well, @Atomic_Charge has put forth another challenge and rather than come up with an original idea I think I'll rehash my last challenge submission! More water cooling it is but this time around, as the title implies, I plan on doing it right. A loaded word I know but in essence I want this build to look nice as I'll be starring at this thing on my desk for quite some time.
well lets get to the good stuff eh?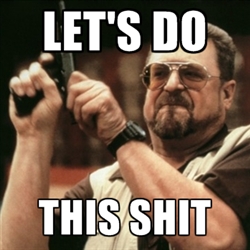 ---
The Parts
FX-8350
Sabertooth 990FX R2.0
R9-290x OC
#not

the most extreme pc i know but it get the job done
So many fittings!
This will be a hard line tubing build and I initially made the mistake of not ordering enough fittings! It is best to plan out your loop
before
you order everything for instance
I bought a 280x block before I knew I would be upgrading, same with the rad, after consulting a the false guru
@SoulFallen
it was determined I bought the wrong rad and needed a cross flow for optimal setup so I did....
LIke I said, make sure you know what fittings you'll need beforehand
---
Time To Get To Work
I've been told you need to flush out blocks and radiators so I did, I had enough stuff lying around to rig this up.
Surprisingly only the EK block had anything in it, a few acetal chips from machining.

Also I am not using that filthy radiator nor is that my filth, it came with a pc I bought...
After a few weeks of the Gigabyte windforce cooler it is clear it is a turd
Off it goes

Jeez didn't even get a pic of the cleaned up card

Once again @SoulFallen was giving me shit for the TT block even though its a Swiftech rebrand, I took the opportunity to add a custom touch.

I was able to take off the paint with some alcohol

Polished it with some toothpaste and masked it off for paint

I cut out a design with an exacto after a few scetches and tada! I forgot to pictures...

Ooh don't it look nice?

Leave a comment, tell me its awful or ask a question all feedback is welcome!
desperation intensifies