If you don't live under a rock you'll know that all modern Intel based motherboards are backdoored via Intels management engine, and generally x86 isn't a particularly open or user friendly architecture.
Raptor Engineering are looking to see if there's interest in an open secure fully auditable POWER8 motherboard
https://raptorengineeringinc.com/TALOS/prerelease.php
Here's a fancy diagram i stole showing POWER8 compared to others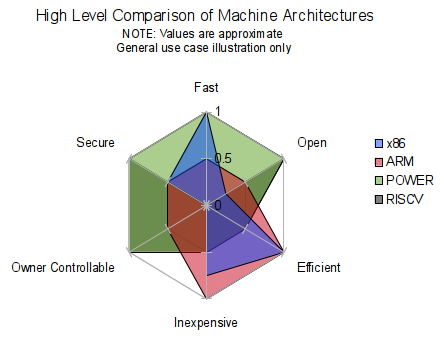 Talos™ is the world's first ATX workstation-class mainboard for the new, free software friendly IBM POWER8 processor and architecture. Raptor Engineering's Talos™ Secure Workstation brings unparalleled performance, security, and user control to the desktop. Designed for security-conscious, high performance users, the highly flexible and extensible Talos™ Secure Workstation board includes two Coherent Accelerator Processor Interface (CAPI) capable slots, utilizes libre-toolchain FPGAs, provides a plethora of PCI Express slots, and includes a GPIO header, along with open schematics and libre (fully open and auditable) firmware.
@wendell I feel like you'd have some interest in this.
Here is a current list of the planned specs
1 POWER8 SCM
8, 10, and 12 core variants available (190W TDP)
8 and 10 core variants also available in 130W TDP versions
Hardware virtualization (HVM, qemu supported)
POWER IOMMU
Vector Multimedia eXtension (VMX)
Vector Scalar eXtension (VSX)
AES acceleration for VMX / VSX
8 DDR3 RDIMM slots w/ ECC support (2 memory controllers, 256GB maximum)
2 x16 Coherent Accelerator Processor Interface (CAPI) capable PCIe slots (8 shared lanes)
4 x8 PCIe slots
1 x1 internal mPCIe slot
1 legacy PCI slot
8 internal SATA 6Gbps ports
2 external eSATA 6Gbps ports
1 HDMI port
8x USB 3.0
2 GbE ports
2 external RS232 ports
2 internal RS232 ports
1 internal GPIO header
1 heatsink with 92mm fan
Open-toolchain FPGAs
Blob-free operation
Fully libre (open-source) IBM OPAL primary firmware w/ PetitBoot interface
Fully libre (open-source) OpenBMC secondary (IPMI / OoBM) firmware
NO signing keys preventing firmware modification
...and much, much more!
Apart from the pretty flexible hardware specs the thing that does it for me is the open firmware as well. All is well and good until your realise that x86 IME can potentially compromise your system regardless of what you do.